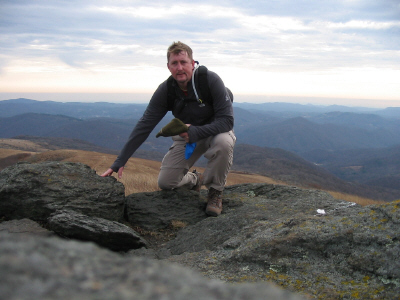 Hi, I'm Bill Fuller... many hikers call me by my trail name, "Possum", which was given to me by my children. I'm a native of Lebanon, Virginia, but now reside just outside of Johnson City, Tennessee. I'm a graduate of Virginia Tech where I majored in Agronomy, with a concentration in Turfgrass Management. I've been employed with the City of Johnson City as the Golf Maintenance Manager for Buffalo Valley & Pine Oaks Golf Courses for the past 15 years (see here).
Obviously my hobby is the outdoors, in particular hiking and backpacking, while photographing the places I visit. I've had a great admiration for mountains for about as long as I can remember.
My overall interests include completing trail systems such as the Appalachian Trail, along with "peak-bagging" (reaching certain prominent summits), and simply exploring and photographing places that few people ever see in person.
My goal of this site is to share my photography and trail information with people who have the same interests so they can use my treks as a resource for their own outings.
I also have many other projects: I'm a semi-professional photographer, and I enjoy website design. I recently redesigned the Tennessee Eastman Hiking Club's website. I'm also interested in trail maintenance in order to do my part with keeping the Appalachian Trail in Tennessee in good condition. Shannon and I have adopted a section of the A.T. from the Hampton Blue-blaze trailhead, across Pond Mountain, back to Highway 321 at Watauga Lake.
Almost all older photography on this site was taken by a Canon A60 Powershot. Some of the newer ones taken on longer excursions and backpacking trips were done with a very lightweight Fuji. On shorter hikes where carrying weight is not an issue, I'm able to bring my Nikon D80 to get some of the better images that you see on the site.
Please feel free to contact me with any questions, suggestions, or just to say "Hi".